Historic News About Founder's Previous Experience
Wall Street Journal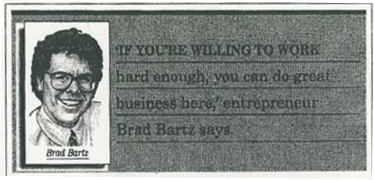 November 16, 1996 - Wall Street Journal
"Foreign Start-Ups Are Thriving in Japan - "he (Bartz) started one of Japan's first electronic-bulletin-board services to feature advertising.
That led him (Bartz) to chart Japanese cyberspace before intah-netto had entered the lexicon. He foresaw a Japanese Internet boom."

The Japan Times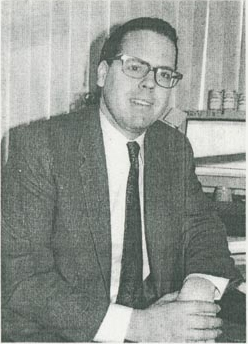 December 21, 1997 - The Japan Times
IAC will put you on-line for Yen 30,000 a year, inclusive of Internet and email services. "We offer the best choice in Tokyo, Yokohama and also Osaka, "he said without missing a beat. "We offer a flat rate for all you can eat, with a same-day setup. I can think of no better Christmas present than e-mail at Japan's No. 1 address: you@japan.co.jp."

Asahi Evening News


July 6, 1998 - Asahi Evening News
"Always wanted a Hollywood address? Input your name in front of "@hollywood.co.jp," and if it's available, it's yours for life. Have you ever wanted to have sumo's highest rank of yokozuna? Now you can, without ever donning a mawashi or sumo belt, by slapping your name in front of "@yokozuna.co.jp." and you will never lose your title."

The Daily Yomiuri


February 3, 1998 - The Daily Yomiuri
"In addition to Web design, Bartz said IAC would focus on a new Web-based e-mail service for Japan, called Jmail. Jmail will be similar to the popular Hotmail, allowing users to read their e-mail from any computer connected to the Internet. The service is to begin March 1 and be officially launched on April 1."

The Forum For Corporate Communications


January 1998 - FCC Communicator
Bartz will discuss his interview with Business Week and what he says was a disparaging article in its September 1, 1997 issue. His speech, "How to Survive a Press Thrashing," presents his perspective and helps to balance the story that was published by the magazine
Known for his casual, forthright, and informal speaking style, Bartz will entertain, as well as teach us ways to handle the press."

Business Week Magazines


April 3, 1995 - Business Week Magazine
"First-time Net surfers just looking for E-mail service can get online for free at Information Access Center Inc. When you log on, your screen fills with a bright red Coca-Cola Co. ad. Coke pays for the English-language service, along with 11 other advertisers. One drawback: The service doesn't handle Japanese. I AC also sells direct PPP web access for a $55 signup fee and $55 monthly charge for the first 10

ACCJ Journal Magazine


June 1993 - ACCJ Journal Magazine
"METABOOK, on the other hand, allows users to string together existing files and search them all using the same sort of commands. "One of the primary advantages of this product is its advanced search and retrieval capabilities," said Bradley L. Bartz, an IAC partner based in Tokyo. "so METABOOKS with specific information are niche market advertising vehicles that give advertisers more bang for their buck."

Business Week Magazine


September 1, 1997 -
Business Week Magazine "So Bartz crafted deals with about 20 information providers to put E nglish language news and information about Japan on an online bulletin board. Later, to create a customer base, Bartz offered members of the American Chamber of Commerce a free bulletin board and E-mail service. Then Bartz set to work persuading major businesses to advertise onlin e. Coca-Cola Japan, for example, paid an initial $10,000 to showcase its logo, according to Bartz."