We have 10 years designing and installing solar systems and feel like we are just getting started. This is our collection of process photos and specifics to the variety of roofs ABC Solar has installed on. The key to our continued success has been these details and comments that you are about to read and view.
From the very beginning I found great pleasure in working with electricians, carpenters, roofers and handymen putting the jigsaw pieces together. Ok, enough with the mumbo jumbo. Let's get down to installing great solar energy systems.
We will spend time talking about solar thermal and solar DC direct applications like our Solar Powered Pool Pumps and the Solar Hot Tub Kit.
Thermostat

300 gallons of hot tub water from tap to 100+ in one sunny day. Custom systems available. Call 1-310-541-0015


Sample - Please ask for a custom chart for your home or business.
Other key facts about photovoltaic solar panels are:

1 KW ~ 150 kWh a month
1 KW ~ 100 sq. ft.
1 KW is about 6 panels
Cash Rebates Available
30% Fed Tax Credit
3KW powers average US home
Grid acts like a battery
Tracking = 25 to 40% increase
Panels = 25 year power warranty

Pages
4 - 16 Chapter 1 - Commercial Solar Installations
7 - 23 Chapter 2 - Composition Shingle
4 - 29 Chapter 3 - Concrete Tile
30 - 35 Chapter 4 - Flat Roof
36 - 41 Chapter 5 - Ground Mount Solar
42 - 43 Chapter 6 - Metal and Standing Seam
44 - 47 Chapter 7 - New Construction
48 - 55 Chapter 8 - Traditional Spanish Tile
56 - 59 Chapter 9 - Unique Situations
60 - 73 Chapter 10 - Water Heating and Pumping
74 - 75 Chapter 11 - Solar Mounts
76 - 77 Chapter 12 - Solar Rails
78 - 81 Chapter 13 - Inverters
82 - 85 Chapter 14 - ABC Solar Design Build Studios
86 - 87 Chapter 15 - Solar Duck Racing and Event Power
88 Chapter 16 - Solar Battery Backup Applications
89 Chapter 17 - SAFETY
(NOTE: Page numbers correspond our printed book: The Solar Bible
The Solar Bible is is created to pass on 10 years of ABC Solar's grid-tie installation experience. We appreciate your time and hope that you will enjoy this book. If you are ready to install a solar system be sure to call ABC Solar at 1.866.40.SOLAR. Thanks! Bradley L. Bartz, President.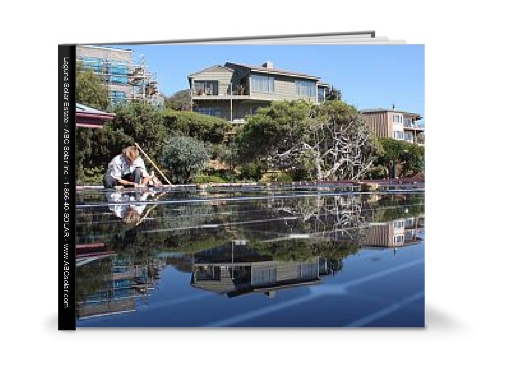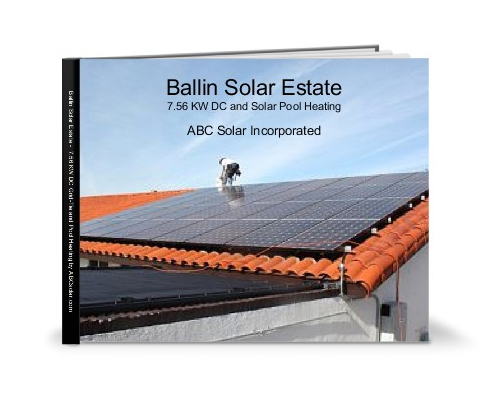 The Largest LA City Installation
SMA 225 grid tie electrical inverter for the 280KW solar PV array of 1,246 Schuco Solar Panels. A Real Sunflower!

Clean electrical conduit bends ensure system safety and efficiency. Our experienced C-10 licensed electricians handle the fine details.

This 280KW solar PV array is assembled with Prosolar racking, 1,246 Schuco 225 watt solar panels connected to a 250 KW grid-tie electrical inverter. The project is the first approved "line-side tap" projects in the LADWP territory.

The project presented several unique design challenges we were able to overcome through the combined efforts of our design, construction, and engineering teams. Specific problems came with racking and roofing on 9 different roof surfaces and styles. We used a combination of steel aluminum and aluminum rail to create straight and true mounting platforms for our solar electric panels.

ABC Solar prides itself on quality craftsmanship and design. Our crews are comprised of solid solar PV professionals and represent the talents and cultural diversity of the Southern California region. We have over a decade of design and build experience in the installation of solar PV and thermal energy systems.
We will build the best solar system on your street. Commercial or Residential.
Clean lines and precise angles with the racking system helps ensure panels may be attached quickly for a great looking and energy efficient solar array. One of the important design considerations is the span for the solar aluminum rails. Here we see new 4" x 4" sleepers being mounted to split-the-span on all of our flat roof tilt-racks. The sleepers are mounted to the roof rafters and then hot-mopped for waterproofing. The solar tilt kits are attached with L-feet and goo.
The fixed tilt racking on a dome shaped roof made many roof penetrations required for the panel racking system. This construction and design team faced rigorous attention to detail and assembly.
The composition shingle barrel roof also dips slightly down the length of the solar array; however, by employing angled tilt legs and Prosolar racking, the ABC Solar installation team was able to ensure the tilt angle for maximum solar energy production by the panels. A pure South 180 degree azimuth and a 17 degree fixed-tilt.
The 45' lateral span of the array is secured by 2 and 1/2" unistrut steel. The multi directions of the roof required queer lines below to get straight lines above.
The mounting brackets are unisolar standard two-piece units. The available of 3" to 12" posts allowed some freedom from creative racking. Each mounting bracket is secured to the roof rafters by two lag bolts, then flashed and waterproofed.
ABC Solar's 10 years of experience is really highlighted in the years of solar experience for each one of our team. A combined 50 plus years direct solar and many more as electricians, framers and carpenters.
The northside of the barrel roof posed two primary challenges.
1. Being far enough back to avoid shade contamination, and
2. Cross supporting and bracing for the reverse tilt on the Northside of the barrel.
Down at the end, the AC unit will benefit by shade the solar array.
ABC Solar Project Manager, Mike Bartz, and PV installer Badonna Jarvis pictured here discussing project details and plans.
POMONA SOLAR WAREHOUSE
This solar farm on a rooftop features 100KW of Schuco Nextpower Thin-Film solar panels.
ABC Solar Project Manager and Chief Installer is pleased with this solar PV project located in Pomona. On February 17, 2011 Mike was able to have the permit signed off!
Careful with that panel! Angelo was funny on this job, with others struggling with the panels he would just lug em on his shoulder.
The innovative Schuco racking system uses the frames of the solar modules as the rails of the support system. Each racking is in a set of 11 panels to allow for expansion of the metal during cold and hot and cold and hot.
Solar PV panels and technologies are capable of producing significant amounts of energy even on partly cloudy days as shown here in Pomona.
COMPOSITION SHINGLE
Composition shingles are the most common material being used for roofing. Generally speaking, the heavier the tiles are the more durable they become. The installation procedures calls for the same types of procedures used in the Spanish Tile method.
Mounting feet are the primary component of a roof top solar installation. The feet are installed by a licensed roofer on all of our retrofit solar installations. The feet are mounted to house a solar rail which will then house the solar electric panels. The feet allow 2' of over run on the ends and 4' to 6' for the entire row span.
Waterproofing - Using standard roofing penetration waterproofing materials, which includes "Henry's" and tacky tape.
Feeder Drill Holes - Once the rafters and the layout of the feet are determined we will drill feeder holes to make bolting the feet to the rafter smoother, safer and stronger. 5/16" by 3" lag screws are used per mounting foot.
Solar Rails Attach to Solar Mounts - The solar rails are laid along the solar mounts to check for distance. The number of solar panels is calculated by width or height depending on if your installation is portrait or landscape. For example, we consider the Mitsubishi Solar 185 watt panel to be 33" by 66", which is slightly bigger than their actual size to account for mounting parts.
With proper preparation our ABC Solar team then mounts the panels to create a clean solar energy installation. The lines are straight and the wiring completes the system.
The key installation point is finding the rafters. On most roofs they are 16" on center, which means that the center of the 2" x 4" rafter is 16" horizontal to the next.
Determining the roof pitch is important to estimate solar production and the rebate value. Mostly it follows this:
| | |
| --- | --- |
| 1:12 = 4.76% | 7: 12 = 30.26% |
| 2:12 = 9.46% | 8: 12 = 33.69% |
| 3:12 = 14.04% | 9: 12 = 36.87% |
| 4:12 = 18.43% | 10:12 = 39.81% |
| 5:12 = 22.62% | 11:12 = 42.51% |
| 6:12 = 26.57% | 12:12 = 45% |
Roof mounting feet follow the line of a rafter or truss and are anchored securely with lag bolts and waterproofing materials to prevent leaks through the penetrations. The angle of the roof is based on its Pitch of inch rise per foot per table tot he left. This roof was 5:12 but it felt up and down.
Safety gear such as ropes and pulleys make this solar install safe and efficient. These are Schott Solar 290 Watt panels that weigh about 120 lbs each. Each panel took four guys to heff up to the roof.
20 Mitsubishi Solar 185 Panels to the ABC Solar Inverter standard of the SMA Sunnyboy. This installation is memorable because the city tried to require a screen be put around the array to make is more "beautiful". What it would have done is decrease performance of this array by building up heat by blocking air-flow.
ABC Solar's Bradley Bartz obtained evidence from the panel manufacturer by fax, which was denied by the city.
We had to send an "original" copy. For which my T-Shirt that says, "I am the squeaky wheel" was born. Big, white letters on a big black tee. I usually wear a sports jacket buttoned up at the counter and then only if red-tape surfaces do I take it off... Like for this installation in unincorporated Los Angeles County. This one was sent on a fire dept red-tape ride. I had a home with 11 roof surfaces of which two are used. The roofs I am on are open beam, so ventilation can occur on opposite e roof.
CONCRETE TILE
Concrete Tile installations have two choices. Remove all tile and lay comp shingle or remove tile, mount slider to rafter, waterproof, drill tile, replace tile, fit riser, waterproof riser, mount rail. Both methods work, but ABC Solar does prefer to lay comp shingle.
Concrete Tile Roofs pose several unique steps to make sure that you don't break tiles and that you have a waterproof installation. Methods vary depending on roof slope and a few other factors. Shown opposite is cutting the concrete tile to house the solar roof jack. The tile is removed, our jack is lag bolted to the rafter, waterproofed, flashed and then the cut tile is snuggled back in.
Our installation removed 9 square of tile and laid a 40 year composition shingle roof and our solar mounting hardware. The roofing work was done by Tom File of All-Pro Roofing and his team. The ABC Solar guys then worked install the solar panels, conduit and inverter.
Tom's team then laces concrete tile.
FLAT ROOFS
A solar PV array this close to the ocean! How do the panels stay clean and free of salt water corrosion? Please note the unique sprinkler system design.
Flat roofs offer a creative choice of roofing methods to achieve a long lasting solar mount and roof surface. Shown here are mount with asphalt torch down, TPO sliders with covers and new construction flashed jacks.
Sanyo 220 Watt Solar Panels with Enphase Micro Inverters. The Envoy Enphase reporting system allows for real-time web-based access to solar production. These 7 panels are pointing south-south west and a nice 12 degree tilt. The Array can see the ocean and gets reflections from the giant mirror of the sea.
This is a complete rebuild of system number 11 in Southern California Edison's territory. While putting a white sealant coating on the roof, the ABC Solar team changed the row by row original configuration and put in its favored single-sheet of solar glass.
GROUND MOUNT
This is an example of a fixed-tilt ground mount solar racking system. Using tools and solar energy calculations, ABC Solar Specialists are able to determine the best angle position for solar panels to maximum yearly energy production. The fixed tilt-array racking system is also lagged down securely to concrete footings. The holes are dug 3 feet deep by 1 foot wide. The pipe is set in the concrete and made level. The holes are dug every 10 feet laterally along the array.
Notice the clean and flat appearance of the panels in this photo. ABC Solar's installation crews are solid construction professionals with years of carpentry and experience. The racking and panel assembly process are key to a clean solar energy installation.
Another consideration for a ground mount is the distance of key electrical components. DC drops voltage faster over distance than AC so we like to house the Inverters at the ground mounted panels if we can. From here the AC run to the main house panel is in a buried conduit. The conduit trench must be at least 18" deep per code and can be a paid to dig. Rocks, pipes, plants and more rocks.
The mounting posts are 10' horizontally in two rows over a 76' foot run. The two rows then support vertical solar rails that are spaced to have 10" overhang for each end of the landscape laid Sharp 235 watt solar panel. Four rows of fourteen panels for a total of 52 panels to make all the power this home uses.
We take pride in delivering quality customer service and professionalism when meeting and exceeding our clients expectations. Visit our website ABCsolar.com or Call 1.866.40.SOLAR
Once the concrete is set, the solar crew puts pipe caps to house the horizontal pipe and the vertical solar rails. The use of 2" x 4" lumber allows setting the poles tight and right. The solar rails go vertical for this array because the panels will be laid in landscape. A total of 54 Sharp 235 Watt panels will be installed.
Electrical safety and proper grounding in accordance with National Electricians Code 690 ensures the systems we install exceed solar electric industry standards. The key to a safe and code-compliant installation is a continuous ground loop with wire size #6AWG exposed for rooftop to #8AWG thwn-2 green wire in conduit and box to box. Finally to the house ground electrode. (oops, this section was supposed to be about ground mounting, not electrical ground. see Inverters for...)
This Glendora Estate features 660 acres of mountaintop. The home is fed by a well 600' vertically down from the property thru 1200' of pipe. ABC Solar designed a solar grid-tie system consisting of 39 Mitsubishi 185 Watt solar panels and 8 panels to a solar powered Grundfos well pump. The combination has reduced the estates usage to zero. One of the secret weapons deployed after the installation was the famous Solar Hot Tub Kit to heat and filter the new hot tub. See SolarHotTub.com.
The memorable experience on this job was the assholes at the City of Glendora building and safety department. This array is over 20,000 gallons of water with an open lattice lumber rooftop that houses the solar array. The fire department said no need for sprinklers, but the head of building said, "no one over-rides me!" He turned red, As I went silent for a full 30 seconds. At which time I said, "Fine, I will add sprinklers." The automatic sprinkler company said the open lattice ...
STAMPED METAL
22 Mitsubishi 185 Watt Solar Panels to a SMA Sunnyboy 4000 watt inverter. One of the two strings of 11 panels is set as 7 and 4 to double-pole-double-pole center-off switch that takes 7 panels to a charge controller for battery backup. Creative Solution.
16 Mitsubishi 165 Watt solar panels are configured 8 and 8 on a stamped metal roof. The ribs of the stamped metal roof provides a non-penetrating mounting point for a Unirac S-5 clamp. Using the S-5 allows a low-profile and clean solar energy array.
NEW CONSTRUCTION
With new construction we lay a 40 year composition shingle roof, install the solar and then surround by Spanish Tile. The focus is on a very long term quality installation.
The ABC Solar Spanish Tile mounting method creates smooth lines and still allows air flow. By having 6 inches from the bottom of the solar panels to the top of the roof the panels act as an effective shade barrier. The Panels are facing South and East, capturing most of the solar day.
The home gets two benefits: solar electrical power and a cooler roof. Can it get better?
32 Evergreen Solar 200 watt solar panels are connect in two strings of 16 panels to a Sunnyboy 6000 watt inverter. The system produces all of the energy in this home. Month after month a really, really small electrical utility bill.
We remain connected to the grid, so its natural to have to pay them something?
SPANISH TILE
Spanish Tile: A Closer Look
The primary reason behind removing the Spanish Tile from under the solar installation is weight.
Old Spanish Tiles can weight up to 14 lbs per square foot. The other reason to insure that we have a 100% waterproof installation. The feet are installed by our licensed roofer.
Careful removal of Spanish tiles and placement of solar mounting feet by our expert C-39 roofing contractor allows our installation team to place racking system rails as illustrated by the photo here. Feeder Drill Holes - Once the rafters and the layout of the feet are determined we will drill feeder holes to make bolting the feet to the rafter smoother, safer and stronger. 5/16" by 3" lag screws are used per mounting foot. Waterproofing - Using standard roofing penetration waterproofing.
Our ABC Solar standard for Spanish Tile roof is to remove the tile, lay a 40 year terracotta colored composition shingle roofing along with our solar mounts. Our solar system is installed and we lace the Spanish Tiles for a complete look. The air space under array allows for better performance.
SOLAR TRACKERS
This is the first residential installation of solar trackers on the planet. This makes this array as unique as its Rancho Palos Verdes view of the Pacific Ocean. ABC Solar designed with JX Crystals out of Washington State. The combined effort allowed for 24 Evergreen Solar 200 watt solar panels to be connected to Sunnyboy 4000 Inverter.
This array wakes up in the East and tracks the sun all day long. The mechanism to trigger the motor is great. On the back of each Solar Tracking Pod is a small box with a little lite hole. This hole is really a lens that allows the sun thru. When the sun shines thru the motor is turned on until box mikes shade. The pinhole is over a solar cell!
The First Brill Solar Estate features a fixed-tilt solar shade PV array above the swimming pool. The original closed structure was stripped and 39 Mitsubishi Solar panels at 165 watts each and 6 panels to a Solar Pool Pump. The Solar DC Pool Pump moved water from the pool to the roof thru solar thermal black extruded plastic panels for heat.
Free Heat - Free Circulation - Free Filtration
SOLAR HOT WATER
SOLAR HOT WATER is the current leader in efficiency for turning the suns power into heat. ABC Solar has several speciality solar thermal solutions for heating hot tubs, pools and indoor water. The following pages feature some choices, ABC Solar has the ability to find solutions for you. SOLAR POOL PUMPING is the undisputed leader in moving water. Fast, Slow, High or Low, Solar Water is Good to Go!
SOLAR FISH PONDs
This is a Solar Fish Pond! We are running a 2 horsepower Solar Pool Pump with 10 Sharp Solar 175 panels in series of five by two. The pump runs the waterfall! This pump system is great for the fish and is free to run. It also is pumping so much water it surprised the team.
This friendly and quality installation is brought to you by ABC Solar and Chief Installer Mike Bartz.
Who would have imagined; a solar PV application for a Fish Pond? Brad Bartz and ABC Solar did! See our website SolarFishPond.com and use our calculator to design your system. They key factors in choosing a pump and its solar power needs its the flow of water desired and how high does it need to pump it.
Pool pumping and extruded solar thermal plastic are a match made in heaven. When there is enough sun to run the pump there is enough sun to heat the water. The ABC Solar Pool Pump kit features a Solar Pool Pump at 180vdc and three to six solar panels at 220 watts each. The right is 90 GPM with 3 solar panels.
Six Schuco Solar 185 Watt solar panels at 30 vdc each are wired in series to 180 vdc and connected to our Solar Pool Pump. The 1.5 HP Solar Pump is plumbed in parallel to the existing AC Pool Pump. Four one-way valves are in-place to control the flow of water.
Below: blue Solar Pool Pump in parallel with the AC Pump Cluster. This pump does circulation, filtration and to the roof and thru extruded plastic solar thermal panels that are sized to 100% of the surface area of the pool. Covered Pool.
A Patriotic view of clean renewable energy for 21st Century America! This Solar Thermal Pool System is sized at 80% of the pool surface area. This was just shy of our 100% target for the Palos Verdes Area because of our desire to balance looks with function.
solar HOT water is what we get with these 30 evacuated solar thermal tubes that are heating a hot tub. The water is run thru the collectors by a solar powered pump. It's called the Solar Hot Tub Nelson Kit. See more at www.SolarHotTub.com.
Solar Fish Pond. Well, actually this is a solar water fall featuring a 1/2 HP Solar Pump at 75vdc. It is running from two Schuco Solar 185 watt panels in series. By taking this AC Waterfall off-the-grid we saved this client a fortune. A fortune because we install fewer grid-tie panels to go to zero.
SOLAR MOUNTS
Ode to the Solar Mount
The solar mount is a the proud standard bearer of a solar electric or solar thermal installation. But... there is nothing standard about your choice of solar mounts for a solar installation. Even on the same type of roof the choices can be boggling.
Here is a list of manufacturers that make solar mounting feet or parts
Unirac
Prosolar
Schuco
Hilti
Snap-rac
Fred's Racking
Direct Water & Power
Solardick.com
Applied Energy Technologies
Wattsun Solar Trackers
Zomeworks
Hollaender
Ironridge
Mono Pumps Pty Ltd
OATEY/RD Kincaide
Quick Mount PV
Sharp
Zep Solar Inc
Now that's a mouthful. The most important part is attaching to a strong rafter and waterproofing.
SOLAR INVERTERS
SMA Sunnyboy inverter, main utility service panel, and meter are spaced to allow 36" of open space in front for servicing by code.
Another photo of a centralized inverter and note the use of EMT (electrical metal tubing) versus rigid conduit or flex hose. Solar stickers now populate systems.
The plastic vertical card is separating the DC and AC electrical wiring as it enters and leaves the inverter. AC and DC don't like each other and can not share the same conduit. Similar to Edison (DC) and Westinghouse (AC) as early pioneers really hated each other. The Inverter is a Magic Box.
These are photos of solar PV grid-tied inverters. The inverter is where the DC power produced from sunlight by the panels is "inverted" into AC power for the home, residence, or business electric energy needs. All Inverters are installed with 600vdc disconnect switches to shut off the solar panels.
The use of new Enphase microinverter technologies allows each panel to convert DC power into AC power. This is a viable option for homes with shading issues caused by trees, chimneys, or vents on the roof. The Big SMA 250 KW allows fewer connections.
ABC SOLAR STUDIOS
ABC Solar has three Design/Build Studios in Torrance, Hermosa Beach and Fallbrook California. Each location has allowed us to service a broader area of California and maintain our quality focus.
The Hermosa Beach ABC Solar Studio had its green ribbon opening with Congresswoman Jane Harman, ABC Solar Founder Bradley Bartz, Mayor of Hermosa Beach Michael DiVirgilio, and Councilman Jeff Duclos. A great time was had by all during the opening with all enjoying "G-ma" (Harman) playing with the famous ABC Solar Duck Races!
Local LA Congressional Representative, Jane Harman, and other LA elected officials and staff attended the ABC Solar Incorporated Hermosa Beach grand opening. We appreciate their legislative efforts to push for more Federal and State tax incentives for clean renewable energy from sources such as solar PV and thermal systems.
As President Obama recently announced in his State of the Union address in January 2011, the United States will be rigorously pursuing and investing in renewable energy sources as we move toward a 21st century clean energy economy of the future.
ABC Solar Incorporated is eager and prepared to meet the challenges and opportunities this ambitious National and State goal will require.
The ABC Solar Hermosa Beach Studio is off the grid, we run on solar panels and batteries with an Outback system. We opened the store without Southern California Edison and continue to exist and thrive as an off-grid-in-the-city solar installation company.
Special thanks to my mom Diane Bartz and aunt Vivian for their wonderful art direction and help in getting our Hermosa Beach studio for a wonderful grand opening.
SOLAR WORLD RECORD
Christian Burke broke a world record by running for 24 hours in the sand between the Hermosa Beach Pier and the Manhattan Beach Pier. ABC Solar was the proud sponsor and we powered by solar charged batteries the timer, computers, lights and PA for the event. It was AWESOME!
SOLAR APPLICATIONS
Solar Duck Racing!
ABC Solar owned the festival season with its Solar Duck Racing. 185 panels to a 1HP Solar DC Solar Pool Pump. And... Lots of Ducks!
BATTERY SYSTEMS
Battery storage systems are complicated but an important part of the solar world. At ABC Solar we have become quite effective in building off-grid emergency solar powered systems.
This 20' shipping container shown here has 8 Unisolar 68 watt solar electric panels wired to an Outback charge controller to a bank of 8 deep cycle batteries. The batteries are connected to a 3000 DC/AC inverter to run lights and appliances.
This clean solar install is for the City of Rancho Palos Verdes in three locations. The low-profile nature of the Unisolar panels makes this system virtually invisible from street view.
Battery systems actually are a good segway to talk about safety. As battery systems are generally built with some bad event in mind. Safety and attention to detail are very important in solar PV installation and ABC Solar crews and workers always perform solar installations safely and efficiently.
ABC Solar Inc., CA License #914346 B-General, C-46 Solar - 1.866.40.SOLAR - Solar@ABCsolar.com